Labour Market Information and Skills Inventory Survey Pilot Project - On Reserve
Executive Summary
This initiative is an opportunity to discover and harness integral, on-reserve economic information typically available to only municipalities. Employment and Social Development Canada (ESDC) has selected 11 Indigenous Skills Employment and Training (ISET) program partners across the country (and 44 of their First Nations communities) including Anishinabek Employment and Training Services (AETS), to participate in the development and implementation of this Pilot Comprehensive Community Skills Inventory as well as Labor Market Study and are providing some of the funds necessary to start to implement it in communities.
On-reserve Labor Market Information (LMI) is key to taking control of our program design, service delivery and decision-making in First Nations employment offices such as AETS. There is somewhat of a shortage of data pertaining to skills and training needs, employment experiences, and educational and skill profiles of Anishinabek citizens. AETS will be utilizing the funds allocated to this project, as well as the resources currently available to us, to fill the gap in information and technological infrastructure capabilities.
The key objective of the LMI Project is to improve labour market information by supporting First Nations communities in their labour market planning and service delivery. While AETS support First nations communities' operations and service delivery, it has lacked the funding and infrastructure to implement a project to obtain an adequate level of labour market information. AETS will use the information collected in the next few years (by March 2021 and March 2022) to understand the needs of the communities and paint a picture of their economic states. While ensuring that all personal information remains secure and belongs to the First Nation.
AETS has obtained approval and input from First Nation leadership to ensure that AETS is capturing information relevant to the community and hiring on-reserve survey takers. AETS looks forward to each of its nine member community's participation in the Labour Market Information Pilot Project, and for involvement to evolve the project in the way that best services the community.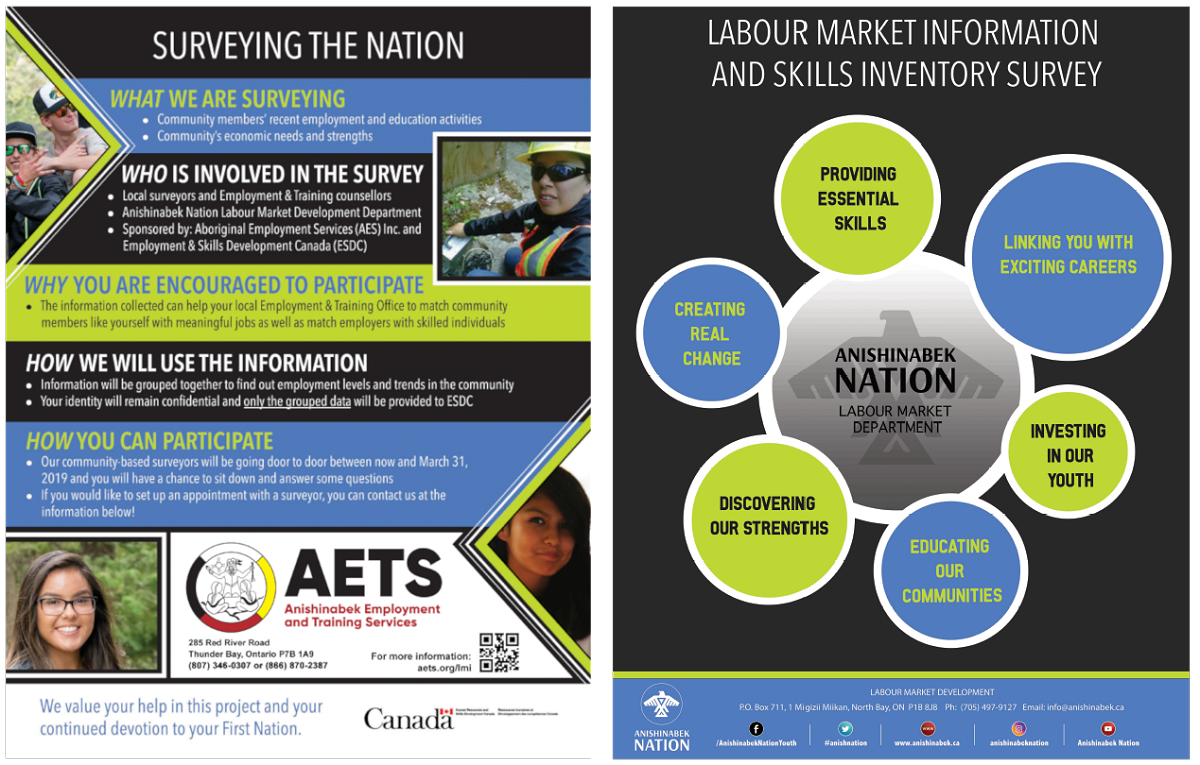 Surveyor Contact Information


ANIMBIIGOO ZAAGI'IGAN ANISHINAABEK (Lake Nipigon)
Mason Shawayamish, Survey Interviewer
807 708 2252
BIIGTIGONG NISHNAABEG (Pic River)
Laura Twance, Survey Interviewer
807 228 1213
BIINJITIWAABIK ZAAGING ANISHINAABEK (Rocky Bay)
Eugenie McGuire, Survey Interviewer
807 788 4473
emcguire_council@rockybayfn.ca
BINGWI NEYAASHI ANISHINAABEK (Sand Point)
Megan Borysewicz, Survey Interviewer
807 632 0203
KIASHKE ZAAGING ANISHINAABEK (Gull Bay)
AJ Esquega, Survey Interviewer
807 982 0006
MICHIPICOTEN FIRST NATION
Sylvia Lesage, Survey Interviewer
705 914 0566
Michipicoten Self Serve Survey Link


NETMIZAAGGAMIG NISHNAABEG (Pic Mobert)
KateLynn Desmoulin, Survey Interviewer
705 255 8587
Pic Mobert Self Serve Survey Link


PAYS PLAT FIRST NATION
Karlee Posine-Avila, Survey Interviewer
807 358 1075
Pays Plat Self Serve Survey Link


RED ROCK INDIAN BAND
Joanna Decicco, Survey Interviewer
807 887 4693
Red Rock Indian Band Self Serve Survey Link