Indigenous Labour Market Information and Skills Inventory Survey Pilot Project - On & Off Reserve
Did you know there's a lack of workforce information available about First Nations in our area? At AETS, we're working hard to change this. We are collecting information through our annual Labour Market Information (LMI) Survey and to help us identify workforce gaps and needs, and to better match First Nation people with the right training and jobs.
Are you a First Nation Citizens of one of the North Superior First Nations?

On or Off-Reserve: Animbiigoo Zaagi'igan Anishinaabek (Lake Nipigon), Biigtigong Nishnaabeg (Pic River), Biinjitiwaabik Zaaging Anishinaabek (Rocky Bay), Bingwi Neyaashi Anishinaabek (Sand Point), Kiashke Zaaging Anishinaabek (Gull Bay), Michipicoten First Nation, Netmizaaggamig Nishnaabeg (Pic Mobert), Pays Plat First Nation, Red Rock Indian Band

Are you 15 or older?
Do you want to contribute to your community?
Do you want to get paid for your time?
Take the AETS LMI Survey and help provide essential data while helping your community.
The LMI project explores employment-related data from working age (fifteen or older) Indigenous Citizens on/off reserves. Approval has been granted by each of the nine participating First Nations, for the purpose of collecting data that reflects a community's overall available workforce, including knowledge, skills and abilities. Once collected, participating Indigenous Skills Employment and Training (ISET) holders, like AETS, will be able to analyze the data with each community and use it to improve education, training, and employment-related programs and services.
Financial Incentive?
$10 will be given to each participant who completes the survey. You can participate in the survey annually.
LMI SURVEY BENEFITS
Providing essential skills
Linking you with exciting careers
Creating real change
Investing in our youth
Providing essential information for growth
Education our communities
Discovering our strengths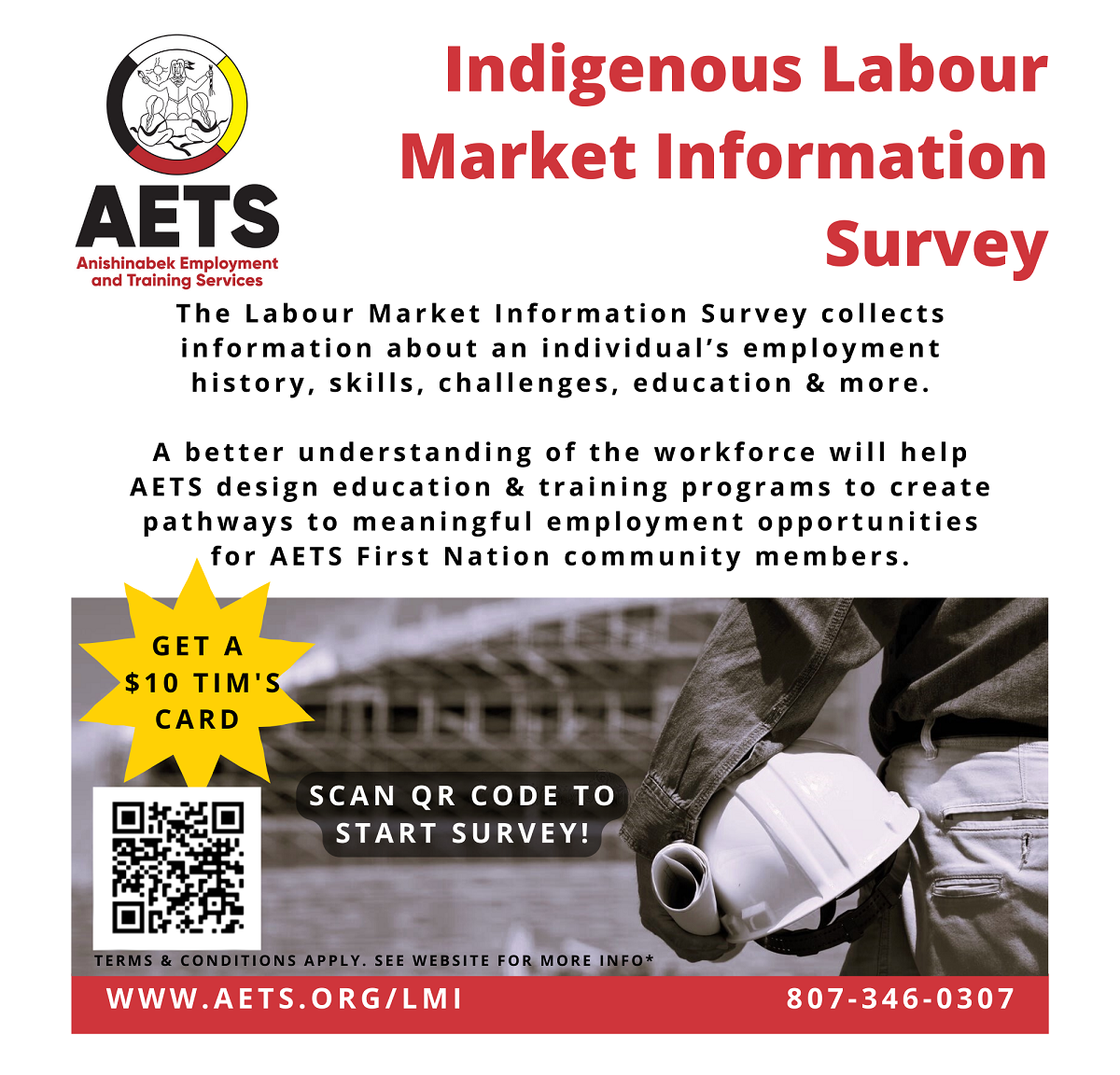 This initiative is an opportunity to discover, and harness, integral economic information on/off Indigenous reserves. Typically, this information is available to only municipalities, but Employment and Social Development Canada (ESDC) has selected eleven Indigenous Skills Employment and Training (ISET) program partners, including Anishinabek Employment and Training Services (AETS), across the country (and forty-four First Nations communities), to participate in the development and implementation of this Pilot Comprehensive Community Skills Inventory, as well as the Labour Market Study.
Labour Market Information (LMI) is key to taking control of program design, service delivery, and decision-making, as it relates to education, to training, and to employment strategies at AETS. There is a shortage of data pertaining to skills/training needs, employment experiences, and educational and skill profiles of Anishinabek citizens who are of working age (fifteen or older). AETS will be using the funds and resources allocated to this project from the federal government to fill the information gap and to improve technological infrastructure capabilities.
The key objective of the LMI Project is to improve labour market information by supporting First Nations communities in their labour market planning and their service delivery. While AETS supports First Nations communities' operations and service delivery, it has lacked the funding and infrastructure to obtain an adequate level of labour market information. AETS completed 474 on-reserve surveys in 2019, and will use the information collected (as well as the information that will be collected over the next few years) to understand the needs of the communities, and to paint a picture of their economic states. AETS is targeting to complete approximately 2,000 on-reserve and 3,000 off-reserve surveys by March 2022, which represents approximately 66% of all First Nation Citizens of working age or older. This work will be done while ensuring all personal information remains secure, and that it belongs to each respective First Nation.
AETS has obtained approval and input from First Nations leadership to ensure that AETS is capturing information relevant to the community. We will be hiring Survey Interviewers (a.k.a. Employment Advisors) for each of AETS' nine affiliated First Nations. AETS looks forward to the participation of the nine member communities in the Labour Market Information Pilot Project, and for involvement to evolve the project in the way that best services each community.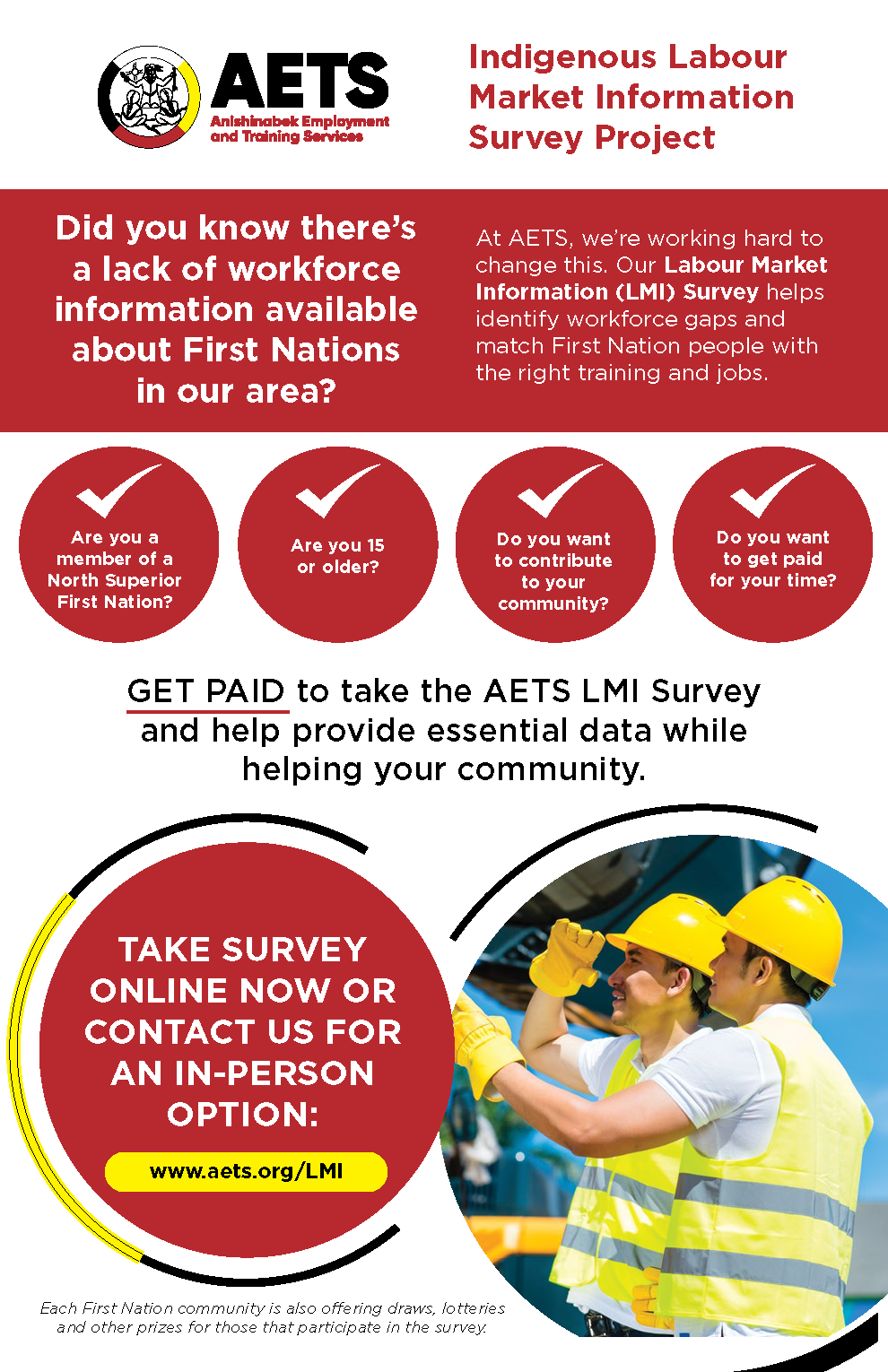 LMI Commercial
LMI Overview
LMI Survey Tutorial
Media
Funding support from the...