Cell Phone Path to Employment Pilot Project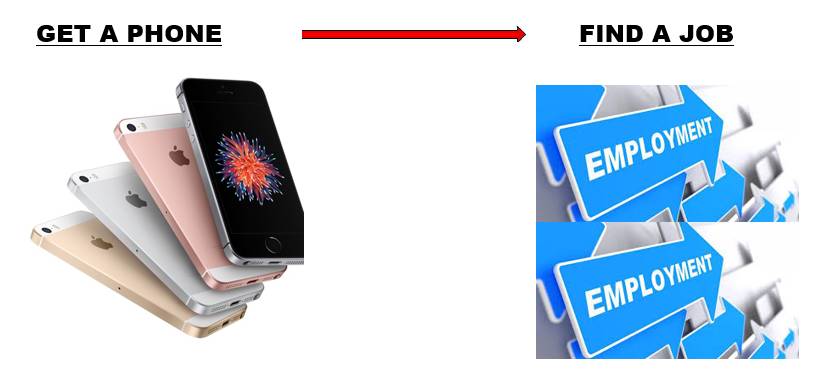 Project Starts

NOW!

Mobile Phones

10

For AETS

CLIENTS
From getting a phone to finding a job, learn how to apply by clicking
What do you need to do before and during the project?
Prepare

Apply using the Job Seekers Application Eligibility Checklist Form

Process

Job Seeker Client Registration Form
Job Seeker Club and Cell Phone Loan Agreements
Cell phone pick up arrangement

Phone

Free 500 daytime calling minutes
Weekly follow up with AETS Officer
Bi-weekly online surveys
Utilize employer tracking form as required
Review task reminders
How to Apply?
Step 1: Prepare by completing and submitting the Eligibility Checklist Form.
Please complete and submit the Eligibility Checklist Form to AETS. Click here to find the Eligibility Checklist Form. Please submit the completed form to AETS at aets@aets.org . A formal Application Review of the submitted eligibility forms will be completed within one week of a submission, which may include verification with the Thunder Bay Social Services Administration Board. If approved by AETS, you could start Step 2.
Step 2: As part of the process, complete and submit the following Client Registration Form and two Agreements.
After being notified by an AETS Officer, please complete and submit the following documents:
Please submit the completed form to the applicable AETS Lead Officer and Systems Officer, who will process the forms along with a free co-branded Thunder Bay Public Library & AETS library card and work with the Job Seeker to ensure the Cell Phone is ready for pick up and escorted to the TBPL for pick up arrangements.

Step 3: Phone service activation.
How Does the Project Work?
AETS will provide cell phone service activation (including 500 free daytime minutes* and other below referenced provisions) with an approved Job Seeker, in co-operation with Touch Unwired and tbaytel. The Thunder Bay Public Library - Waverley Community Hub will store and loan out each of the cellular phones, upon receipt of the completed Cell Phone Loan Agreement with the assistance of the AETS Officer. The following is part of the expectations of the AETS Job Seeker recieving a cell phone:
Weekly follow up with AETS Officer
Bi-weekly surveys
Utilize the Employer Tracking Form as required
Review task reminders
Return cell phone at the end of the up to 3 month loan agreement.
* Approved clients on this project, are responsible for paying any overages.
Monitoring
AETS's applicable Officer will be monitoring the Job Seekers utilization of this project, based on the Job Seekers Club Agreement and utilization feedback.
Note: As this is a pilot project, it will be evaluated in Spring 2021 for purposes of determining an extension and/or expansion.
Mobile Phone Model and the tbaytel Package
What kind of mobile phone would I get?
The phone that will be used for this project is a 16GB iPhone SE, please click here to find more information about iPhone SE.
What services are included in the tbaytel package?
Calling minutes: Limited to 500 daytime minutes, after 6 pm and on weekends unlimited calling available.
Wi-Fi: Access to any tbaytel Wi-Fi hotspots thoughout the city to access data.