Continuing Education
Anishinabek Employment and Training Services (AETS) along with Biigtigong Nishnaabeg Endzhi-gkinoohmaading Private High School provide the opportunity for any high school student interested in securing credits for their Ontario Secondary School Diploma. AETS serves students of any age, from a variety of locations throughout Northwestern Ontario and beyond who are affiliated with a First Nations community.
Students enrolled in the Continuing Education program also have access to the following supports:
Career and Guidance Specialist

Elders In-Residence

Life Skills

Aboriginal Youth Leadership Program
The agreement with Biigtigong Nishnaabeg - Endzhi-gkinoohmaading Private High School is based on past activity AETS has had in secondary education since 2014, in partnership with others including the Lakehead Adult Education Centre (LAEC) and the Margaret Anderson Foundation. It is also based on the continued mandate and direction that AETS confirmed at its Annual General Meeting and through a motion dated September 9, 2016 and confirmed/approved on August 31, 2017.
AETS and Biigtigong Nishnaabeg - Endzhi-gkinoohmaading Private High School are working co-operatively to plan, promote, deliver and expand opportunities for the development of a skilled workforce by:
offering an alternative continuing education model both on-reserve and off-reserve, through the co-ordination of services with community partners both on-reserve and off-reserve

facilitating educational components of training and related projects, to build capacity for community citizens through access to: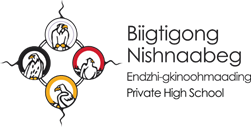 2020 - 2021 Course List Availability and Course List Link:
GRADE 9 & 10:
Prior Learning Assessment & Recognition of (PLAR) available
PLAR allows students to gain recognition for their prior learning and
experiences. After assessment next steps and required courses are
identified.
GRADE 11:
ENG3C College English
MEL3E Essential Mathematics
NBV3E Aboriginal Beliefs, Values & Aspirations
BDI3C Entrepreneurship
MBF3C Foundations for College Mathematics
GRADE 12:
ENG4C College English
ENG4E Workplace English
MEL3E Essential Mathematics
MAP4C Applied Mathematics
MCT4C Mathematics for College Technology
OLC40 Ontario Literacy Course
Media
Forms
AETS & BNHS Registration Forms
High School Prior Learning Assessment & Recognition (PLAR) Process