Biigtigong Nishnaabeg (Pic River) Private High School
- Connecting Ancestral Knowledge and Traditions with Modern Skills
Land Based Education Course
REGISTRATION STILL OPEN APPLY TO START THIS FRIDAY! (SEPTEMBER 14th)
Interested in completing a Grade 11 Land-Based High School (Interdisciplinary Studies) course credit within two weeks, through AETS's high school continuing education program?
The continuing education program includes swimming, a firearms course, canoe training, wild rice camp and moose camp. Transportation and meals provided to site locations from Thunder Bay. Starting this Friday September 14th.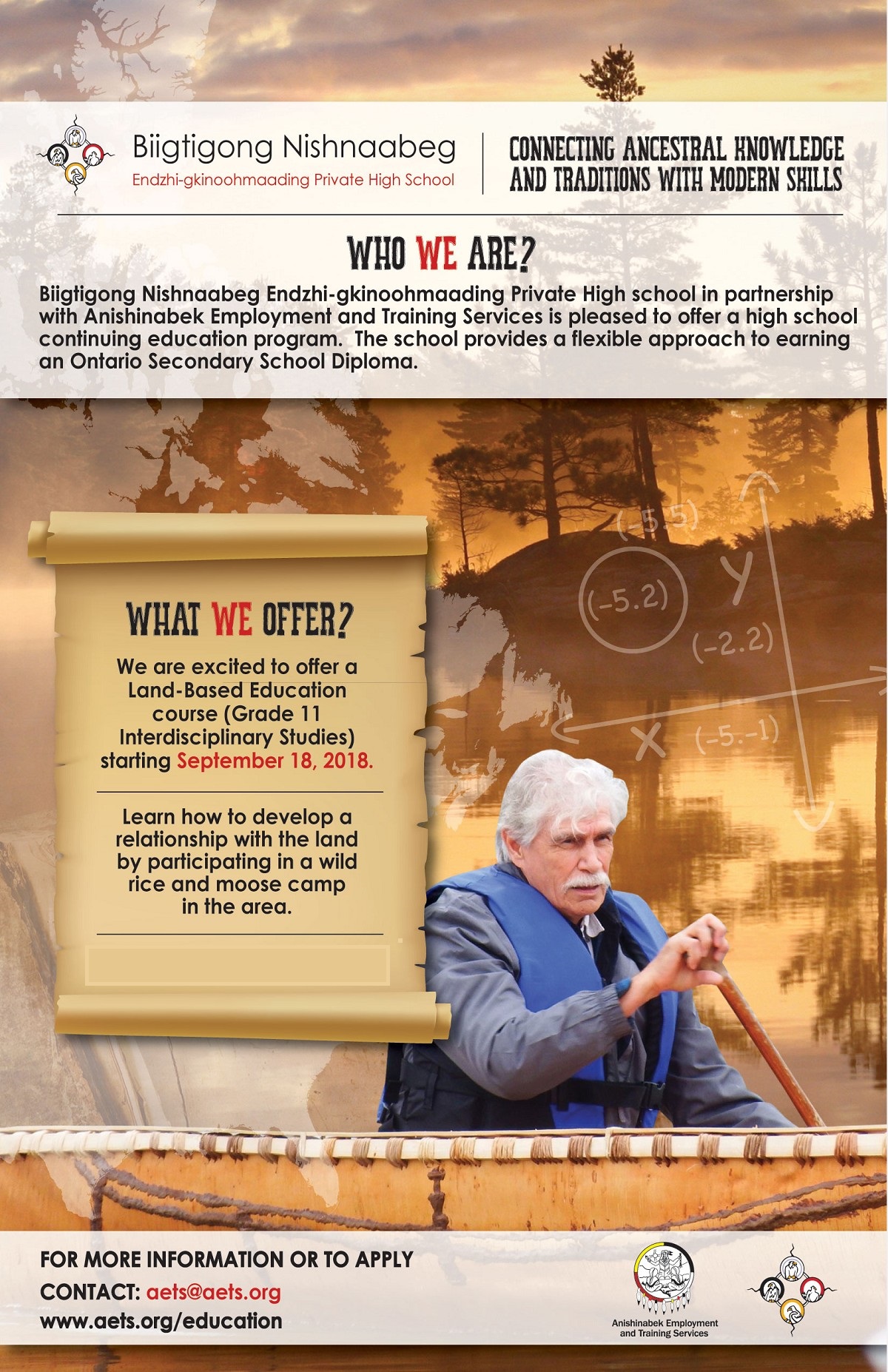 Accomodations Available
Meals Provided
You will need to bring:
Sleeping Bag & Pillow
Cot or Air Mattress
Suitable Clothing: swimsuit, longpants/shirt, boots, hat, gloves (optional)
Cutlery/Dishes
Mosquito Repellent
Sunscreen/Sunglasses
Contact: Rhonda LeClair, High School Teacher
Biigtigong Nishnaabeg - Endzhi-gkinoohmaading Private High School
Continous intake for any age in Thunder Bay - North or South Side or any of the nine AETS First Nation Communities, who are interested in an alternative education solution towards securing credits for an OSSD!
Career and Guidance Specialist Support
Elders In-Residence Support
Life Skills Support
Aboriginal Youth Leadership Program Option
The agreement with Biigtigong Nishnaabeg - Endzhi-gkinoohmaading Private High School is based on the past activity AETS has had in secondary education since 2014, in partnership with others including the Lakehead Adult Education Centre (LAEC) and the Margaret Anderson Foundation. It is also based on the continued mandate and direction that AETS confirmed at its Annual General Meeting meeting and through a motion dated September 9, 2016 and confirmed/approved on August 31, 2017.
Anishinabek Employment and Training Services (AETS) and Biigtigong Nishnaabeg - Endzhi-gkinoohmaading Private High School are working co-operatively to plan, promote, deliver and expand opportunities for the development of a skilled workforce by:
offering an alternative continuing education model both on-reserve and off-reserve, through the co-ordination of services with community partners both on-reserve and off-reserve
facilitating educational components of training and related projects, to build capacity for community citizens through access to ....

Teachers
High School Prior Learning Assessment & Recognition (PLAR) Process (Download) / PLAR Application (Download)
Ontario Secondary School Diploma (OSSD) credits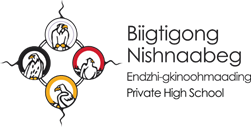 Course List Availability and Course List Link:
GRADE 9:
CGC1P Canadian Geography
ENG14 Essential English
ENG1P Applied English
GLS1O Open Learning Strategies
MFM1P Applied Mathematics
GRADE 10:
BBI2O Introduction to Business
CHC2P Canadian History
CHV2O Civics (1/2 credit)
ENG2P Applied English
GLC2O Career Studies (1/2 credit)
MFM2P Applied Mathematics
SNC2P Science
GRADE 11:
CHW3M World History to the 16th Century
ENG3C College English
ENG3E Workplace English
MEL3E Essential Mathematics
NBV3E Aboriginal Beliefs, Values & Aspirations
BMX3E Marketing, Retail & Service
BDI3C Entrepreneurship
BTA3O Information & Communication Technology

SVN3E Environmental Science

SBI3C Biology

MBF3C Foundations for College Mathematics

GWL3O Designing your Future
GRADE 12:
ENG4C College English
ENG4E Workplace English
MAP4C Applied Mathematics
MEL4E Essential Mathematics

MCT4C Mathematics for College Technology

SCH4C Chemistry
CONTACT:
Rhonda LeClair, High School Teacher