VISION
Our vision is to collaborate and develop, prototype, and measure the impacts of the education to employment system, and how specific contributing factors within those systems pose as a primary barrier to high school graduation rates and employment opportunities for Indigenous youth ages 15-25 years.
Once impacts are determined, it is imperative to focus on providing youth with the guidance and resources necessary to overcome challenges, complete their high school education, and help them embark on a path towards a successful future. This will be done by deeply rooting and continuously integrating Anishinaabe values and culture throughout their development. We aim to nurture their personal growth while preserving their cultural heritage.
Our vision extends beyond high school graduation to encompass comprehensive support for youth, including access to meaningful employment opportunities and continuous professional development. By facilitating connections between youth and the working world, youth will then apply their cultural knowledge, skills, and perspectives, empowering them to achieve their career aspirations while maintaining a strong connection to their ancestral traditions.
COLLABORATORS
The six-year innovation involves the essential participation of the following individuals, groups, and organizations to enhance the 60% non-graduation rates and future employment prospects of Anishinaabe youth served in the nine First Nation communities of AETS: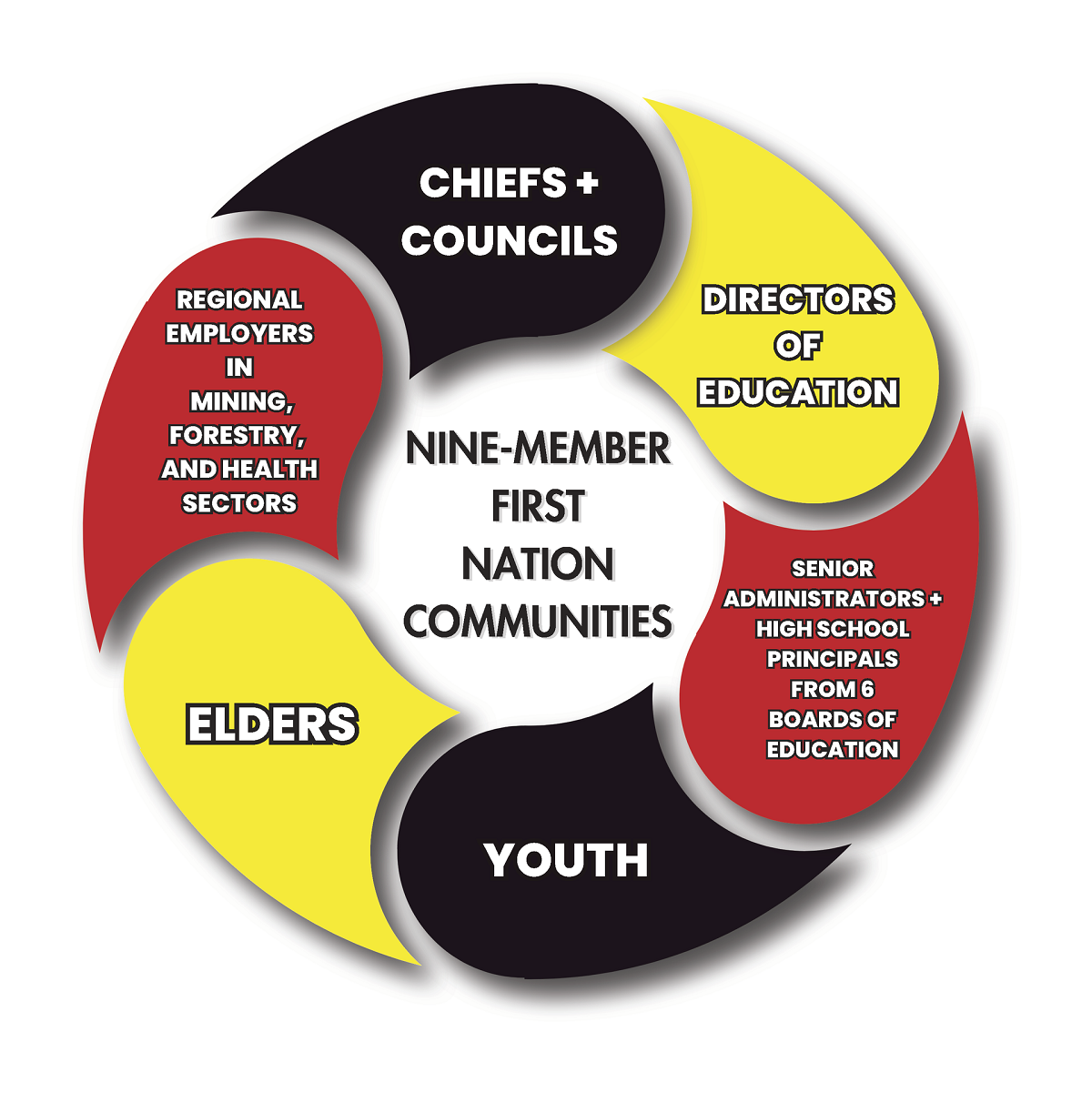 STRATEGIES
A fundamental shift is required to meet the needs of Anishinaabe youth and is necessary to change the education-to-employment system into one that is supportive, accessible, and engaging. The collaborators involved will assist and support the youth by integrating the following strategies for the remainder of the project:
Engage 15–18-year-old youth currently enrolled high school students in a process of consultation and decision of how they want teachers to work with them
Engage 19–25-year-old youth who left high school without a diploma in a process of consultation for a re-entry summer employment program including credit earning opportunities and skills development
Develop and deliver a plan with affiliated communities, high schools, and teachers
Integrate exposures and opportunities to explore future employment, employment training, and future education possibilities
Empowering Indigenous youth to assume leadership roles and take ownership of their educational and employment pathways to success holds immense significance. Their unique perspectives, cultural knowledge, and connection to their lands are vital in shaping inclusive systems that meet their needs. By assuming responsibility, Indigenous youth inspire future generations, foster self-determination, and empower their communities. We can recognize them as:

LAYING THE GROUNDWORK
In the beginning two years of the innovation, recognizing the vital importance of laying the groundwork and involving all collaborators, including stakeholders, youth, and the communities served, becomes the cornerstone for accurately assessing and executing the project plan. This initial collaborative effort ensures a comprehensive understanding of the youth's needs, enabling the development of a tailored plan that addresses those needs effectively.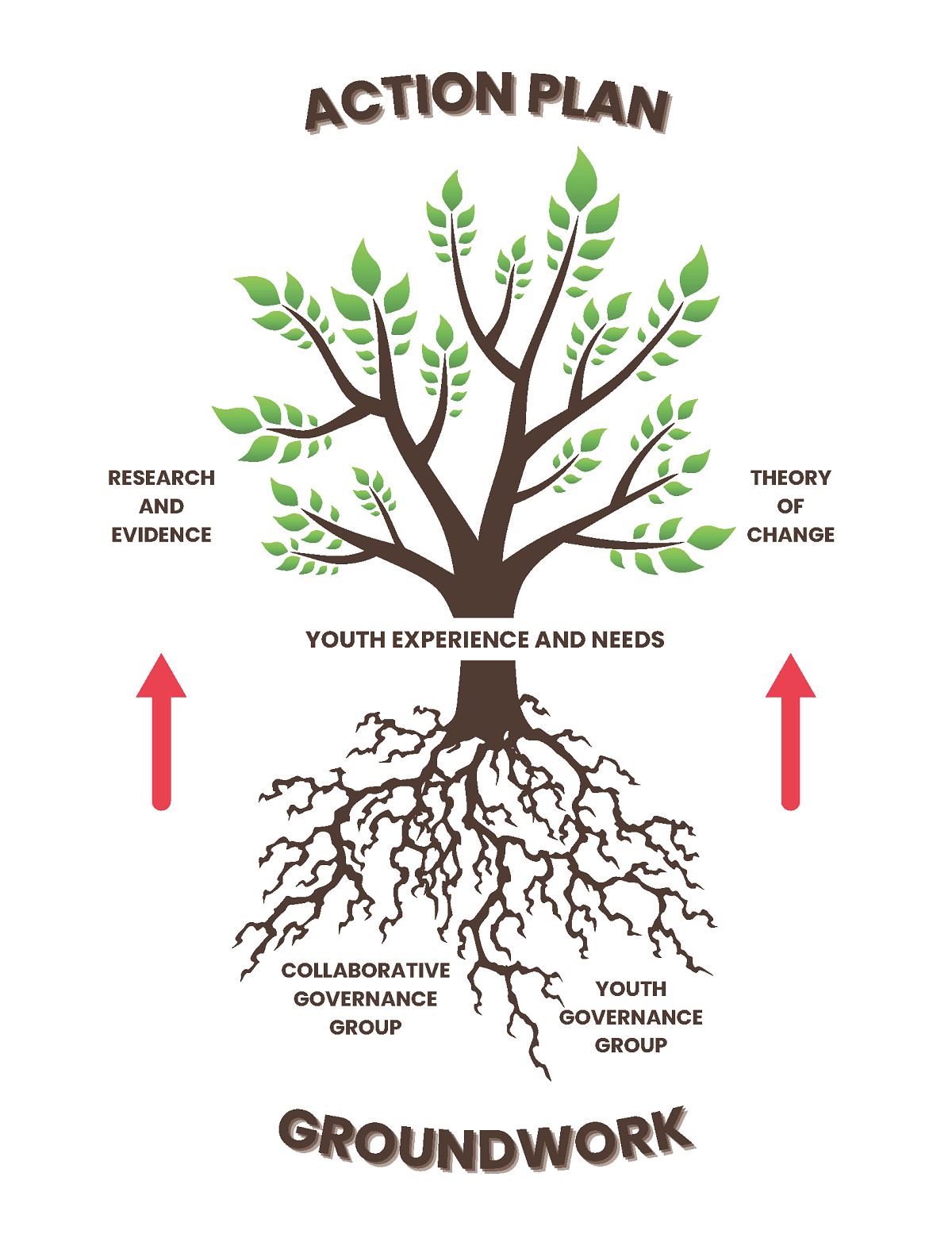 LOOKING AHEAD
Once the groundwork has been established, a crucial next step involves examining the compiled and analyzed data, along with the recommendations and perspectives gathered from the youth and their communities. This valuable information will be shared and deliberated amongst collaborators and will then serve as the basis for identifying pathways connecting education and employment opportunities for the youth involved. Thus, leading into a more developed and tailored action plan for each individual community for the remainder of the innovation.
This initiative will provide various opportunities and benefits for youth and their respective communities:
Capacity development of a representative group of First Nation high school students
Capacity development of a representative group of First Nation youth that have left high school before completing an OSSD
Summer employment opportunities connected to key business and industry sectors in the territory
The professional development of high school educators (grades 9 through 12) working with students
Formative and summative research that gathers evidence of improved high school graduation and employment outcomes
STEPS TAKEN