Cultural Principles
At Anishinabek Employment and Training Services we incorporate the core principles of Anishinabek knowledge. The foundations for the First Nations way of life are structured around the seven sacred teachings. Each teaching is an integral part of mino bimaadiziwin (the good life) and embodied by an animal to instill respect for all life. Our training incorporates the teachings within the circle of courage, an Anishinabek model of postitive development and emotional health.
The 7 Teachings:
Honesty, represented by the Sabe (Sasquatch), is speaking and acting truthfully. It is living true to your spirit and accepting who you are.
Humility, represented by the wolf, is the recognition of a higher power or Creator. To be humble is to accept and understand that all beings are equal. Humility is expressed through consideration of others.
Truth, represented by the turtle, is to know the teachings and be faithful to them.
Wisdom, represented by the beaver, is the ability to make decisions based on personal experiences.
Love, represtend by the eagle, is to know the Creator. To know the Creator is expressed through self-love.
Respect, represtented by the buffalo, is to honor all of creation.
Bravery, represtend by the bear, is to have the mental or moral strength to overcome fear or challenges that prevent us from living true to ourselves.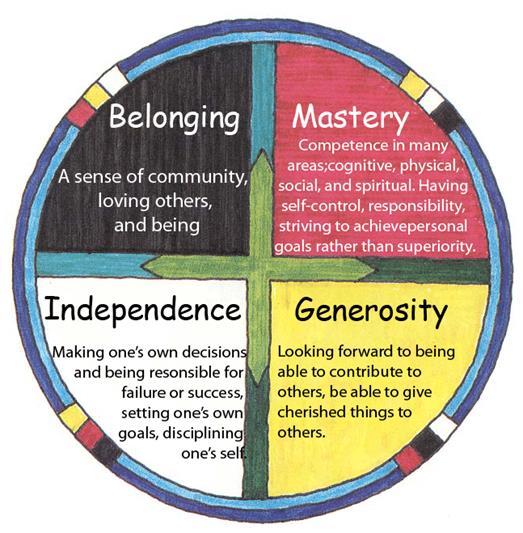 Circle of Courage:
These universal teachings empower all to act locally and globally. The Sacred Circle program aims to use these principles as a lens through which to explore and develop skillls as follows with a framework including:
Part 1: Building Trust and Community (Belonging)
Part 2: Communication and Contribution (Mastery)
Part 3: Exploring Independence and Skills (Independence)
Part 4: Taking Action and Celebration (Generosity)